Q. What's really bugging you this morning?
A. My relationship to reality.
Q. What is reality?
A. Well, you know the answer to that.   Reality is what's actually happening.  It's what is.
Q. And you are somehow not happening?  You are somehow not?  
A. I didn't say that!
Q. Well, what are you saying, then?   How are you distinct from reality?
A. I'm distinct from reality in that I am supposed to be real and as such represent reality in the eyes of all who — who —
Q. Who?
A. Who observe me.
Q. Why did I think you were going to say something different than that?
A. Because you probably thought I was going to say: "in the eyes of all who judge me."
Q. Are there people who are judging you?
A. Well yes, I believe so.  Or at least, they have a hard time not judging me, since they have to observe me.  Once you start observing somebody, it's only a matter of time before you pass judgment on them.   It's just human nature.  
Q. But wait – why are all these people observing you?   And who are these people?  
A. Who are they?   Gosh, I don't know – they could be just about anybody.   Anybody who has access to — to —
Q. To binoculars?
A. No, no, no – to the Internet!   Anybody can pass by this page for any reason, they can look, they can lurk, they can draw conclusions —
Q. Are you trying to tell me that you are afraid of the random trolls and lifeless morning whiskey-guzzlers who idle upon your page at random first thing every Tuesday morning?
A. I never used the word "fear."
Q. Then why am I picking it up?
A. Probably because I'm paranoid.
Q. What do you mean by that?  If you're paranoid, aren't you necessarily afraid?
A. No, not necessarily.  One can be totally paranoid without being afraid at all.  We've all met paranoid people who completely believe scenarios about reality that are entirely faulty.  Do they always act scared?  No, they don't.  Sometimes they have amazing self-confidence.
Q. And are you one of these people?
A. No, I'm not.  But I'm not exactly scared either.   I'm just concerned about my relationship to reality.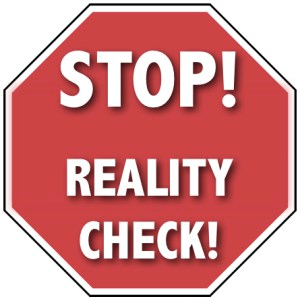 Q. Do you see reality as a threat?
A. That's a good question.  It's not so much reality itself that is a threat.  It's that I myself might never quite relate to reality in a healthy or beneficial way.
Q. How do you relate to reality?
A. Gee whiz, I thought you'd never ask!
Q. Hm?
A. I usually assess it first thing in the morning, see if it stands in my way, and exactly how much it's in my way, quickly dispose of some of its usual, daily, meager demands, and then go about my business.
Q. And your business is?
A. You already know what my business is.
Q. But how is it that your business opposes reality?
A. It doesn't.  Not in the highest sense.   My business involves the creation and instigation of — alternative realities.   New ways of looking at old things.   Transformative energies — you know where I'm coming from, don't you?  It's a bit crass to elaborate.   
Q. But reality opposes your business?
A. Well, yes.   And again, it all depends on what you think reality is.  If reality is this thing that always is, that never changes, that resists change — well, yes, then of course it opposes my business, and the business of all those like me.  If reality is this more open thing, always embracing that which is new, routinely cleansing, purging itself of what is old, inhaling, welcoming the breath of newness wherever it may be — then, no, reality does not oppose my business, but is in that sense an integral part of my business.
Q. Have you then therefore redefined reality?
A. No.  I've only redefined my relationship to it.
Q. And this relationship no longer bothers you?
A. I didn't say that.   
Q. What are you saying then?
A. Only that the relationship is manageable, for now.
Q. May I then therefore be excused?
A. You may.  I think we've exhausted this analysis — for now.
The Questioner is silent.  
Please donate to Eden in Babylon.
A little bit goes a long, long way.